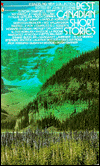 I read in Reader's Digest recently that fewer Canadians read poetry than any other genre of writing. For me however, I'm more neglectful of short stories. I do enjoy them, don't get me wrong, but I've just never been likely to buy a collection or borrow one from the library. The last collection I read was
Kilter: 55 Fictions
by John Gould (which you should read, if you haven't already). Recently, while talking with my wife's uncle who teaches a short story course, I made a conscious decision to read more. It's really a fun genre and just as important as any other.
incidentally my favourite short stories are obviously limited to those I have read. In fact, truth be known, it's probably more of a "Here Are Short Stories That I Remember" list. This "Top 10" comes to mind:
1.
The Secret Life of Walter Mitty
- by James Thurber
2.
The Lottery
- by Shirley Jackson
3.
The Loons
- by Margaret Laurence
4.
The Monkey's Paw
- by W.W. Jacobs
5.
Lamb To The Slaughter
- by Roald Dahl
6.
My Financial Career
- by Stephen Leacock
7.
The Tell Tale Heart
- by Edgar Allen Poe
8.
Gift of the Magi
- O. Henry
9.
Quitters, Inc.
- Stephen King
10.
Ideas Die Hard
- Isaac Asimov
Some of these I haven't read since high school, I might read them now and hate them, but I'm curious as to what your favourite short stories are. Most of the above stories are available through their links, so if you haven't read them before, I encourage you to do so and let me know what you think.
So far in
Best Canadian Short Stories
I've only read
Charles G. D. Roberts'
"The Cabin Door". It's okay, but it made me aware of chauvinistic tendencies I didn't even know I had. The story is about a young woman returning home to visit her sick mother and ending up being cornered in a cabin by a bear. It's a heart thumper but I wonder if it would have had the same effect on me had it been a man? Maybe it's just the similarities to Goldilocks that had my inner caveman acting up, because I've had plenty of female friends far more adventuresome than I (mountain climbing on Baffin Island, Cambodia trips, etc). They'd be the ones chasing off the bear while I'd be hiding under a sleeping bag wondering how I was ever going to get my shorts clean. Yet the protagonist in "The Cabin Door" seemed somehow more threatened simply because she was female- the writer's intention or my own sexist residue?