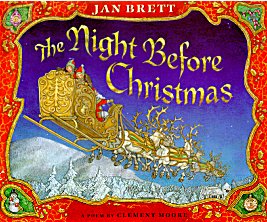 The Night Before Christmas
, or
A Visit From St. Nicholas
as it was originally titled, is, according to
Wikipedia
, "largely responsible for the contemporary American conception of Santa Claus, including his appearance". False. In fact, if anything, we have gone out of our way to ignore Moore's rather remarkable declaration that Santa Claus was a little person, perhaps even a "jolly old elf".
Surely the Santa who we know, the bearded guy that buys an extra large red and white suit at a Big and Tall store and offers up his lap to children at the local mall, is not the same Santa that Moore wrote about driving a "
miniature
sleigh" pulled by "eight tiny reindeer". Yes, he was described as "old" but "little" as well, remember? I doubt the little hooves of Moore's reindeer could have pulled
Tim Allen's
behemoth version either. His "droll little mouth", his "little round belly"? My friends, for a
moore
accurate version of St. Nicholas, look to the
Travelocity

gnome
, not to the
Coca-Cola guzzling giant
.
*
Incidentally
, Moore may not be the actual author of this beloved Christmas classic. It may have been
Major Henry Livingston
. The evidence cited by W
ikipedia
certainly presents a more favourable case for the latter.