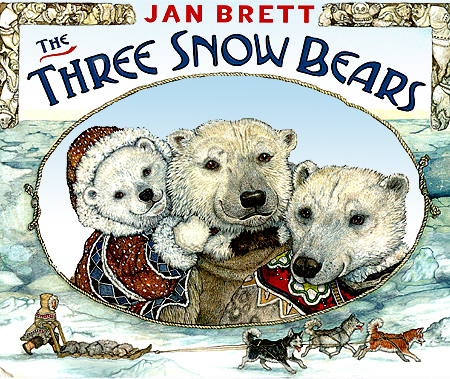 There's been a lot of fractured fairy tales in recent years. For the uninitiated, these are altered versions of the classics and have been all the rage in primary classrooms (though I wish teachers would familiarize kids with the originals first). With such a huge trend, there are bound to be lots of hits (
The Three Little Wolves and The Big Bad Pig
) and misses (
Cinderella Penguin
). I think Jan Brett's Arctic take on
Goldilocks and The Three Bears
should be considered a hit.
As usual, Brett's artwork in
The Three Snow Bears
is stunning. Vibrant and highly detailed, they have so much going on that upon multiple readings, my kids and I still discover more. Yet amazingly, she avoids making the pictures overly busy. In typical Brett fashion she frames the main picture on each page and leaves additional pictures (often with a second related story) in the margins.
To research for this book, Brett traveled first to Iqaluit and then to
Pangnirtung
, a smaller town of about 1300 people even further North. She should be commended not only for her dedication but also for her attention to detail.
This is the story of an Inuk girl named Aloo-ki who looks for her lost dog team and stumbles upon an igloo belonging to three absent polar bears. Similar to the original version, she tastes their three bowls of soup, tries on their boots (kamiik) and falls asleep in their furs. But the real abundance of culture comes from the illustrations.
Apparently one of the things that struck Brett about a lot of the Inuit art was seeing all the Northern animals dressed in traditional clothing. Deciding to use that idea herself, she (perhaps wisely) chose not to try to mimic their style but kept to her own. We are treated to rich illustrations of ravens in amautis (parkas with a pouch for carrying a baby in the back), walruses in parkas, hares in kamiik and so on. The detail she puts into these garments is so very authentic, it's hard to believe Brett was only a brief visitor. She either took lots of pictures or has a photographic memory.
Two minor editing points that I suspect will be fixed in subsequent printings: It opens with
Come back!"
missing the opening quotation marks, and on the inside cover there's a picture of a hat that reads "Pangirtung" which, if you'll notice above, is spelled wrong.
Still, it's an excellent book. The idea of transporting fairy tales to different cultures is a great addition to the fractured fairy tale genre, and needless to say I'm thrilled that it's written about my home.
(In other news, I'm very excited and pleased to report that today I was appointed to the Nunavut Literacy Council!)