This week's
BTT
question comes from
Julie
:
While acknowledging that we can't judge books by their covers, how much does the design of a book affect your reading enjoyment? Hardcover vs. softcover? Trade paperback vs. mass market paperback? Font? Illustrations? Etc.?

Wait a second? We can't judge a book by its cover? Oooops!
(Found at Picdit)
The design of a book for the most part doesn't affect my enjoyment. It's the story or the writing that accounts for 98% of my pleasure. Though, like anyone, I suppose, I'm not totally resistant to aesthetics.
I prefer my covers simple. Just the title and author's name will suffice. Perhaps one of my favorites is the cover for Saramago's Blindness.
Which, if you've read the book, has an additional cleverness. And though I haven't read it yet, the cover for the sequel seems appropriate as well.
Though, looking at these two covers, I'm reminded of two other beefs I have. Blurbs and stickers on the front
and when the author's name is supposed to be the selling point and it outsizes the title:
Perhaps most annoying was this: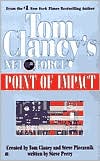 which wasn't even written by Clancy!
Then there's this recent trend that I also despise: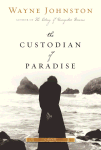 (Wayne's Johnston's
Custodian of Paradise
, Betsy James'
Long Night Dance
and Kathryn Heyman's
The Accomplice
- as found on
Books and Cooks
and
Novelish.com
)
As for hardcover versus softcover, I find it much easier to read a softcover. Though, if I was to collect books, I prefer to see hardcovers on a shelf (with the dustcovers banished to the garbage). As for e-Books and
Kindles
and the like, I haven't even ventured there yet. Then, I don't really know why TiVo is better than a VCR, so I'm getting a little old. And why doesn't my laptop ding when I get too far to the right?
Finally a word on font. My copy of
Lolita
has a page at the back that informs me it was "
set in the classic typeface
Baskerville
and printed on acid-free, cream-wove paper with a sewn full cloth binding
." Well, that sure made Humbert's sexual abuse a little easier to take, didn't it? Look, as long as it's not written in
comic-sans
and I don't need a microscope to see it, I don't really care.
But, lest I come across as a pretentious snob-- the
Mr. Blackwell
of books-- I reiterate: as long as the writing is good, all else is forgiven.