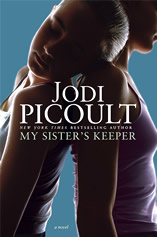 Two major authors introduced to me through the litblogging community are Jodi Picoult and Neil Gaiman. In hindsight I must have been living under a rock not to have heard of them before, but in any case, I, too, jumped on the bandwagon with a couple of Gaiman's works under my belt, and now, finally, Picoult.
I know she has her share of fans, but I'd call this one a
recommenDUD
. About halfway through I found myself comparing it to Dan Brown's
The Da Vinci Code
. I guess I should really be glad I read Brown's book; I've used it in so many reviews now that I've lost track. However, I usually use it as a benchmark of sorts and when you see his name pop up on my blog, it's rarely a good sign.
For me, Brown is the epitome of a great premise ruined by shoddy writing. While I didn't dislike
My Sister's Keeper
as much as
The Da Vinci Code
, I thought it suffered the same fate.
My Sister's Keeper
is the story of a daughter conceived with the intention of being her sister's lifesaver. Anna was essentially created in a lab as a perfect genetic match to donate bone marrow to her sister Kate who suffers from a rare form of leukemia. As Kate relapses time and time again, Anna finds herself poked and prodded right along with her. At thirteen her parents decide that Anna will donate a kidney to Kate and that's where Anna draws the line; she sues her parents for medical emancipation.
Early into the book, I found myself having loads of moral and ethical discussions with my wife. It's a heavy, emotional topic and conversations like ours are bound to be the norm. However, early on I began to have my reservations with the characters.
Beginning with Anna, I suspected that someone with her experiences would be more knowledgeable than the typical adolescent about medicine. I suppose with the turmoil she'd faced, it would also be a fair to assume she'd be a little more mature than her peers. But, when she thinks that her lawyer's name (Campbell Alexander) "sounds like a bar drink that costs too much, or a brokerage firm," I'm not going to accept that one. Maybe Drew Barrymore was able to reference cocktails and brokerage firms at age thirteen, but it doesn't seem credible for Anna.
Told from various characters' perspectives, the font changes with each person. It's a small annoyance, as if readers aren't smart enough to understand on their own that having "Sara," "Brian," "Campbell," etc written at the top of each chapter means that particular person is now telling the story. But that's a small issue, which I suspect was a publisher's issue. My major beefs were with the caricatures that were supposed to serve as characters.
Kate and Anna's older brother Jesse suffers the worst under Picoult's cliched pen, portrayed as the troubled teen who curses, thinks about sex a lot, and likes to get hammered with one substance or another. He also serves to illustrate another complaint of mine: the cheesy sentimentality. After a run of arson, Jessie is caught by his father (a firefighter, of course) and his father, Brian, chalks it up to Jessie's concern over his two younger sisters. Brian ponders, "How does someone go from thinking that if he cannot rescue, he must destroy?" With a first-year psychology course, Brian.
Then there's the tacked on love story between Anna's lawyer and her court appointed
guardian ad litem
(which, oddly, no one seems to think is a conflict of interest), the annoying bit about the lawyer's mysterious service dog, and the ending...
I disliked this book a lot. Even more now that I've gotten some of my thoughts down. But I won't spoil the ending. Rest assured, the ending spoils itself.