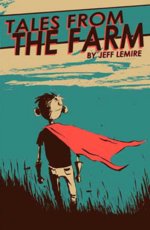 Introduction Attempt A: This is the first graphic novel I have ever read
(unless Archie comics count...)
Introduction Attempt B: Compared to all the graphic novels I have ever read, this is the best!
Tales from the Farm
by Jeff LeMire has basic dialogue and simple illustrations yet I read this book over and over making inferences into pictures, format, and text. The cross on the wall imposes different meanings at various times throughout the story. Time and silence are marvelously stretched through unchanging, repetitious frames. I appreciate LeMire's wit and social commentary as the boy watches the same sports program he declined to watch with his uncle. Much like the format of a graphic novel, I could continue on and on to make frame-by-frame comments highlighting what I loved about this book.
Simply put...I think this book is brilliant! I will definitely read the rest of the trilogy!