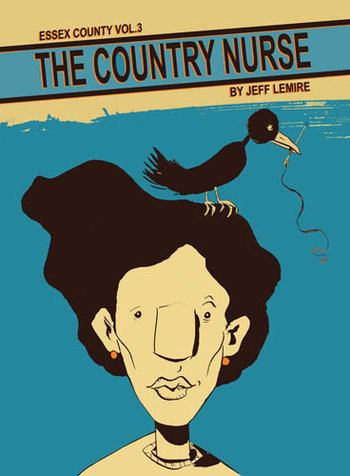 With Jeff Lemire's
The Country Nurse
, I've completed my second graphic novel series (
the Collected Essex County
) this year (the first being Jeff Smith's
Bone
).
I wouldn't go as far as saying that
The Country Nurse
was a disappointment, as the larger overall story of Lester and Jimmy gets a little more closure and loose ends are tidied up. However, the book doesn't stand alone as well as the first two books. The story of the country nurse is weaker, less interesting. She's a meddler with good intentions, but Lemire gives away her psychology a little too easily, making her cliched. Granted, the background story of her grandmother, a much more intriguing character, saves the book. First timers to Lemire's work might still see this volume as remarkable (if somewhat confusing without the context of the first two volumes). Rare are the comics with this much emotion and symbolism and the artwork is, as always, stellar. But the first two books (
Tales From the Farm
and
Ghost Stories
) show Lemire's true potential.
Do yourself a favour and buy the complete volume. Not only does it make the third book work better, but you'll have one of the best novels to come out of Canada in a while. Plus, it has loads of special features at the end including additional Essex County stories, early character sketches and promotional material.