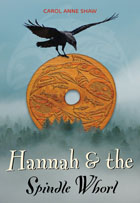 Lately I've found myself reading a lot of books or stories involving time travel to my daughter. A lot for a seven year old to wrap her head around I'm sure, but they're also more imaginative at that age, so I think she's gotten the gist. We're not moving on to Stephen Hawking just yet, but we'll build up to that.
To make
Hannah and the Spindle Whorl
even more appealing is the fact that it's set in British Columbia and involves the Coast Salish people of Cowichan Bay.
Hannah, a 12 year old girl, is wandering through the woods one day when she falls and inadvertently discovers a cave. Inside the cave is a wooden disc that Hannah eventually learns to be a spindle whorl, over 100 years old, used by the Coast Salish people to spin wool. Even more remarkable is that she soon winds up there herself, with the original owner of the whorl and her daughter Yisella who she quickly befriends.
Hannah herself is a very likable character-- inquisitive and sensitive, intelligent and tough, and yet not overly perfect. She's still trying to cope with the loss of her mother from a car accident 2 years earlier, she lives on a houseboat, her dad's a writer, and yet she comes across as a realistic typical 12 year old.
The rich characters, intriguing setting, and adventure are fortunately enough to save the book from its few downsides: the overt attempts at making the book educational (including a very unnecessary lesson on carbon dating), a few loose ends (Yisella's sister's apparent dislike for Hannah is never adequately explained), and my own personal beef, dream sequences. My daughter was also somewhat unclear about the book's ending. "Didn't Hannah go back to help?" she asked, "I don't know how she helped them." But her questions actually made me like the book more. We not only thought of ways that Hannah may have helped, but also how Hannah was helped by Yisella and her people. That kind of question should me how invested my daughter had become in the book and made me realize that it had depth, much more depth than a typical juvenile novel.