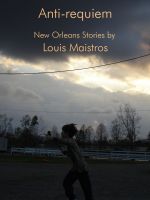 Anyone following my Short Story Mondays could tell you, I like reading free stories. In my weekly Internet scours, I've come across many, many wonderful yarns without ever having paid a cent.
So when I was planning my trip to New Orleans and trying to load up the old Sony eReader for the long flight south I was thrilled to find a free version of Louis Maistros's
Anti-requiem, New Orleans Stories
. Unfortunately, this was a case of getting my money's worth.
Some of the earlier stories weren't without appeal. "New Orleans, December 24, 1994" is a charming story about a musician, recently moved to NO, who ends up playing on the streets in front of St. Peter's Cathedral alongside some homeless characters and finding a sense of belonging and peace. That story contrasts remarkably well with the following story, "Gleeby Rhythm is Born," which could be a a Stephen King short, about body art taken to a shocking degree.
But soon the few good stories and my tourist attraction to the them (St. Peter's Cathedral? Hey, I know where that is!) were overwhelmed by the preachy essays and poorly written stories that came next. Looking back at all my stylus-scrawled notes across the pages, I see "trite," "clumsy," "out of place," and other negative comments vastly overshadowing the positive.
But what I think really did the book in for me were the excerpts. Way too many of the so-called stories weren't stories at all, but excerpts from Maistros' novel
The Sound of Building Coffins
. Excerpts are not short stories and I wish publishers would get that through their heads. Short stories should work on their own. These didn't. While I like the idea of reading a short story to get a sense of an author's writing before buying a novel, I hate excerpts. I still want a sense of completion after all. I'll read a blurb or a back cover synopsis before an excerpt. If the aim of offering this assortment was to sell
The Sound of Building Coffins
, I'm afraid I'm even less likely to buy it now than I was before.