I'm glad to see that most have you did not slow down in your Canadian reading last month. I, on the other hand, have almost come to a screeching halt. I've returned to work and am currently stuck in the middle of a couple of clunkers. Sure I managed to finish Richard Van Camp's
Angel Wing Splash Pattern
and Angie Abdou's
The Bone Cage
, but I'm definitely not coming close to the reading machine I was this past summer.
Collectively in September we read and reviewed over 80 Canadian books, not the least of which included a
how-to watercolours books
,
a review of one of last month's prize giveaways
, and
a short story collection with a bizarre title
. Some participants have just begun while others are well on their way. Good job to everyone.
Last month's prize, generously donated by
Ronsdale Press
, and consisting of these books:
1.
Strongman: The Doug Hepburn Society
- Tom Thurston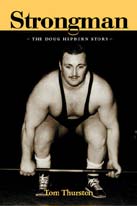 2.
I Have My Mother's Eyes: A Holocaust Memoir Across Generations
- Barbara Ruth Bluman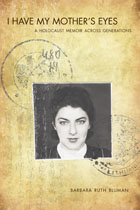 goes out to Swordsman, chosen randomly from those who submitted names of Canadians of whom they'd like to read a biography, autobiography, or memoir. Swordsman would like to find a biography on Joseph Wilcox, whom he refers to compellingly as the "ultimate Canadian traitor."
I'd not heard of Joseph Wilcox before but Swordsman seems to know so much, I'd encourage him to write the biography himself!
This month's prize is awards-based. In September the Scotiabank Giller Prize announced its long list, with the short list set to be announced on October 4th. I'm still annoyed as all hell that two thirds of the judges are not even Canadian, but I promised myself not to rant about that again, but it looks like I just did. Stupid-Giller-garbage-face-aside, I acknowledge the financial boost and most importantly, the increase in readership that a prestigious award can bring, and so next month I encourage you to read Canadian winners and nominees, of
any
award. If you're a Canadian Book Challenge participant, you read and review an award winning or nominated Canadian book in October, and come back here to leave a link to your review in the comments, your name will be entered in a random draw to win this wonderful prize pack from HarperCollins Canada:
1.
This Dark Endeavour
, a prequel to
Frankenstein
. Kenneth Oppel is the award winner of numerous awards including the Governor General Award, the Michael L Printz Honor Book Award, and the Canadian Library Association Book of the Year for children.
2.
Emma Donoghue's
Room
was the winner of the Rogers Writers Trust Award for fiction and was shortlisted for both a Governor General Award and a Man Booker Prize. And while it's not yet an official award,
Room
was also the most reviewed book of the 4th edition of Canadian Book Challenge.
And don't forget to keep reading and reviewing Canadian books in October. Share your links at the round-up post
here
.