Another month, another 80+ books read. Last month's roundup included a couple of war books (perfect for the upcoming Remembrance Day), some past Canada Reads champs and contenders, a cookbook, and a handful of books with very long (more than 5 words) titles.
Check them out
, and please leave some comments when you read one another's reviews!
I know we've just finished Halloween, and I know how much we hate seeing Christmas decorations in the stores already, but I wanted to offer next month's prizes as potential Christmas presents. I also have to get them in before the year is out, seeing as both lots of prizes are celebrating anniversaries that happened in 2011:
1. From Scholastic Canada, it's the tenth anniversary of their wildly popular historical fiction for young readers series,
Dear Canada:

That Fatal Night
by Sarah Ellis
It is May 1912, one month after the horrific sinking of the Titanic, and twelve-year-old survivor Dorothy Wilton is sent home from school in disgrace when she strikes another student. Although she's expelled, her sympathetic teacher encourages Dorothy to write an account of her experience on the ship, with the hopes that it will help Dorothy come to terms with her trauma.
and also by Sarah Ellis,
A Prairie as Wide as the Sea
:
Ivy Weatherall and her family leave a comfortable life in London for the promised riches of Canada's expanding West. Expecting to make their fortunes on Uncle Alf's ranch, the Weatheralls are shocked to find themselves living in a sod hut on a rented farm. Ivy is determined to taste life to the fullest, whatever hardships she may encounter. Writing in her diary, she recounts learning the new skills expected of a young farm girl. She struggles to help the family survive, but ultimately learns that responsibility brings its rewards.
But that's not all! Also included in this Scholastic Prize, in honour of our war veterans, comes 2 books from their newest series,
I Am Canada
aimed at 9-12 year olds:
Shot at Dawn
, by John Wilson, and
Prisoner of Dieppe
, by Hugh Brewster: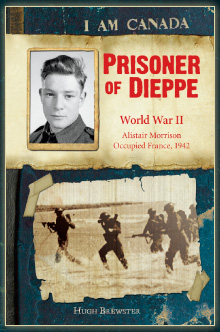 Alistair "Allie" Morrison lets his friend Mackie talk him into enlisting for WWII, even though he's only 18. After months of endless training, Allie is eager for battle. But his first action is not just any battle . . . it's the disastrous raid on the German-held port of Dieppe.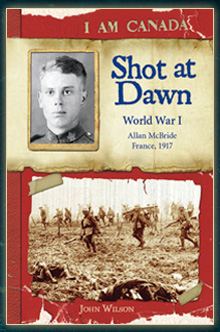 The reality of trench warfare comes as a shock to Allan McBride. Like many other young soldiers, he enthusiastically signed up for the chance to join the war effort and be a part of the fighting. But after months in the ravaged battlefields, watching men, including his friend Ken, get blown up by German shelling, something in Allan snaps and he leaves his unit, believing he is "walking home to Canada" to get help for a friend.
Whew! Pretty awesome prize pack, right? You might want to win them for a son, daughter, a niece, a nephew, a friend of the family, or if you're like me maybe you still enjoy reading youth fiction, for yourself.
But that's not the only give away this month. From Kids Can Press, I also have 4 copies of
Franklin in the Dark
to give away. Can you believe Paulette Bourgeois and Brenda Clark's lovable turtle has been with us for 25 years? This anniversary edition of the book that started it all comes loaded with special features such including a look at the original manuscript, letters from the author and illustrator, and a collection of
Franklin
success stories.
With the Scholastic Prize Pack and the 4 individual copies of
Franklin in the Dark
up for grabs, you've got an awesome shot at a prize this month. All you need to do, if you're a Canadian Book Challenge participant, is either write in the comments below what your favourite Canadian children's book or YA novel is or better yet, review such a book in November as one of your November's reads (remember to come back here and let me know!), and you'll have your name entered in five random draws. Good luck!
Last month's prize pack was up for grabs for any participant who reviewed (and linked to) an award winning Canadian book. That prize goes to
Shonna
, for reviewing David Bezmozgis' Giller shortlisted
The Free World
. Congratulations Shonna, you've won these wonderful books, generously donated by HarperCollins Canada. Enjoy:
1.
2.
What are your reading plans for November? Has Canada Reads inspired you to read more nonfiction? Any new releases that you can't wait to get your hands on?
Don't forget to keep reviewing Canadian books in November. Share your links at the round-up post
here
.