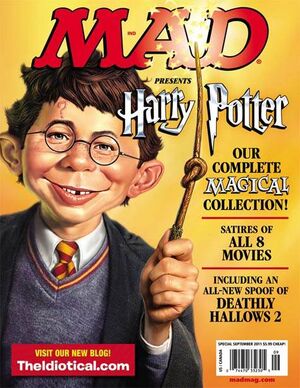 Yesterday I blogged about a graphic novel adaptation of
the Hobbit
. Today I'm blogging about a MAD Magazine Harry Potter special edition. It's only January but I'm pretty sure I've sealed the deal on the 2012 Geekiest Northern Blogger Award.
I used to say I wasn't really into comics as a kid. Then, after getting into alternative graphic novels as an adult, I began to read more and more cartoonists mentioning MAD Magazine as an influence. Hey, I thought, I had stacks of MAD Magazines as a kid! So I wasn't all that into superheroes, I was still a comic geek. What a relief.
The last MAD Magazine I ever read was about 13 or 14 years ago. My girlfriend, who'd found out I was into MAD as a child, bought me one as I was recovering from wisdom teeth surgery and a nasty case of dry socket. The MAD Magazine helped and I ended up marrying said girlfriend.
Flash forward to 2011. I've just finished reading the last Harry Potter book to our first born child, and we're both going through Hogwart's withdrawal. Then, as I'm passing the magazine stand at the local Co-op, who should I see but Alfred E. Newman, all decked out as Harry Potter himself. MAD Magazine spoofs all 8 Harry Potter movies.
It was a little more raunchier than I'd remembered-- either times have changed or a lot went over my head as a child--but for the most part it was the same old MAD: a lot of put-downy puns (Alpo Dumbledork), a lot of self-aware jokes ("That's okay. In every movie, this is where the whole school turns against me for no reason"), and plenty outside pop-culture and political references thrown in for good measure (although a joke about a "shambling undead creature on the loose in the streets of London" referring to Amy Winehouse instead of the death eater behind her was more unsettling than funny-- though in their defense, that particular spoof was written before her death). Plus it had a few old MAD standbys like Fold-ins and a "MAD look at" and other features all related to the whole Potter franchise.
I was also quite enlightened about the role of a good illustrator. I was nearly finished, I was enjoying some spoofs way more than the others, when I realized that all 8 were written by the exact same author, Desmond Devlin. Not that Devlin couldn't have been off his game for some of the movies (heck, the real movies also fluctuated in quality), but when I went back to see why, the problem with those I was less than crazy about was mostly with the illustrations. My favourite illustrator of all those who participated was Mort Drucker, who was drawing for MAD even when I was a kid. That was followed by the art of Tom Richmond, whose work closely resembles Drucker's. But my least favourite by far were those drawn by Herman Mejia. To be fair, none of these artists could get Hermione right, but Mejia couldn't even capture Harry. And when the titular star of the whole series is off, it's too much of a distraction.
Still, it was a welcome walk down memory lane. My daughter, however, will have to wait a while yet before I let her read it. How old was I when I had my first MAD Magazine? I hope she's older than that-- to save her from eternal geekdom if nothing else.