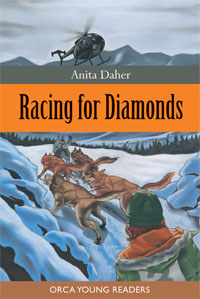 Anita Daher's
Racing For Diamonds
, a book aimed at kids 7-12, was a read-aloud to my daughter. Set in the Northwest Territories, most of the action takes place on the
Canol Trail
, near Norman Wells. I've not been there, but I'd love to see it, or the Mackenzie Mountains at any rate.
Racing For Diamonds
is the first in a series called the
Junior Canadian Ranger Adventure
series. Revolving mostly around a 12 year old girl named Jaz, the story begins with plans for a dogsled race, but soon becomes a story of kidnapping, diamond theft, and international intrigue.
It's certainly a thrilling book, full of cliffhangers and plot twists. Had it been longer, I think the constant drama would be too much, but coming in at little more than 100 pages, it should be able to maintain an adult's interest (kids will most likely love it-- as my daughter did). It also, as the title would suggest, provides a little education about the diamond industry (which is very important around these parts), though a Russian mafia bit felt like a leftover from the Cold War era.
I was also put off near the midway point that the previously established interpersonal problems and character building was falling to the wayside. Sure the adventure was exciting, but not so much that I'd forgotten about the rest: the problems with her divorced parents, her constant bickering with her sledding partner. But then towards the end it started to become clear that this was going to be the first in a series and I was a little more forgiving, figuring those issues might feature more regularly in the later books. I'm not in a huge rush to read the rest, but I certainly won't rule it out.
Full disclosure: I met Anita a few years ago at a Northwords Writers Festival (which I believe she played a role in creating) and she was quite a lovely person. Here's a
picture
of her and I.