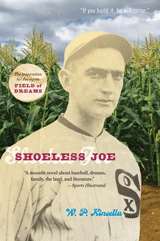 When I bought this book on my Kobo, suddenly Recommended for Me were such books as
Moneyball
and
Eight Men Out
. The assumption being, clearly, that I must be a baseball fan. Sorry to say, I read W. P. Kinsella's
Shoeless Joe
mostly due to Kinsella being a Canadian and I found it interesting that this novel of his, which often appears in "best sports novels," never seems to be considered Canadian. It's about baseball, for one. Sure we have a team in the major leagues, sure there are clubs across the country (my nephew is one hell of a pitcher, actually), but come on, it's hockey country. Or lacrosse. Heck, football, curling, figure skating... Baseball is an American game. Sure more of them watch football, probably basketball, too, but baseball is a quintessentially American symbol. Like apple pie, bald eagles, Smith & Wessons, and Budweiser.
Not far into it, I started to think of how American the book actually is. It's literally the American Dream. (Or technically, I suppose, "an" American Dream, if I insist on using "literally.") But then I realized that I was really in no position to make that call. Maybe it's an outsiders view of the American Dream, a stereotype. And maybe I was just hung up on that because of baseball. By the time J. D. Salinger showed up (how cool and unexpected was that?!) I started to realize how easily adapted one could make this story. Salinger's there, maybe it's an analogy of someone writing a novel. But really it could be any dream that one pursues beyond all reason.
It's a beautiful book. Poetic, profound. It may just be the best novel I've read all year. I'll knock off a few points for having two dimensional female characters, but otherwise I was marveled.
(I haven't seen
Field of Dreams
, based on the book, however, so I have no idea how it would compare. Anyone want to weigh in?)